Leave your worries and clothes at home...
Unbeatable feeling and ultimate holiday experience.
Naturist sailing holiday.
Enjoy sun and sea while sailing nude. Objective is to stay in harmony with nature and leave as small footprint as possible. So we use wind and solar power and stay in our most natural from – nude. Our destinations are mostly remote islands and quiet anchorages.
Croatia is naturist friendly country. There are many naturist resorts, camps, beaches…. Anyway, it is important to respect others as well. Nudism is not tolerated everywhere and it is good to know how far one can go. Sailing is perfect way to practice nudity as you are quite isolated and not disturbing anyone.
If you are looking for optimal way to enjoy and relax on your naturist sailing holiday, we highly advise you to take  professional skipper and hostess. It will add to your safety and relaxation time. Specially in a busy season when anchorages and marinas are overcrowded with boats and people, skipper can greatly reduce your stress time by making the right choices. Hostess will definitely add to your comfort and unique experience. 
COMPLETE SOLUTION AT VERY COMPETETIVE PRICE
SKIPPER
Bob is great sailor and sailing instructor so you can enjoy in a real sailing cruise instead of motoring your way. You can learn or improve your sailing skills as well.
HOSTESS
Dana will keep the boat tidy and organised, prepare some tasty local dishes for you and guide you on land and in the water.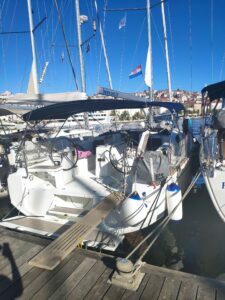 BOAT
We find the right boat for your needs, good charter company and take care that you get the best value for your money.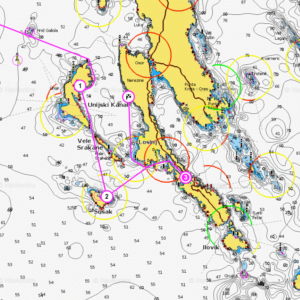 ROUTE
Each trip is different and exclusive: Depending of your wishes and weather conditions we chose the best naturist friendly route possible.
Complete solution at very competitive price
We can make your sailing holiday really special.
Enjoy sailing, snorkelling, hiking, local food, quiet evenings and beautiful sunsets…
Our destinations are mostly remote islands and quiet anchorages.
We are experts in sailing and anchoring, always giving our best to avoid main charter routes, overpriced marinas and buoy fields. By looking for quiet, free anchorages, we cut expenses and add to your relaxation time and unique experience. 
You can have full confidence that we will protect your privacy.
SPECIAL OFFER
UNBEATABLE PRICE
LIMITED SPECIAL OFFER FOR EARLY BOOKINGS
NATURIST SAILING HOLIDAY
SEASON 2023
200€/day – SKIPPER & HOSTESS – ALL OUR SERVICES INCLUDED
More about our cruises and Croatian coast:
If you want to find out more about naturism we recommend the social media website www.anaturistworld.com. We are there so be sure to say Hello !

Naturist oriented, skipper and hostess services in Croatia. Committed to Customer Satisfaction.
Please feel free to ask any question about this topic.